In our image driven culture, videos speak more than words and more any one single picture can do. Especially when it comes to music, events and training!
Here is a collection of published and unpublished videos of some of my work!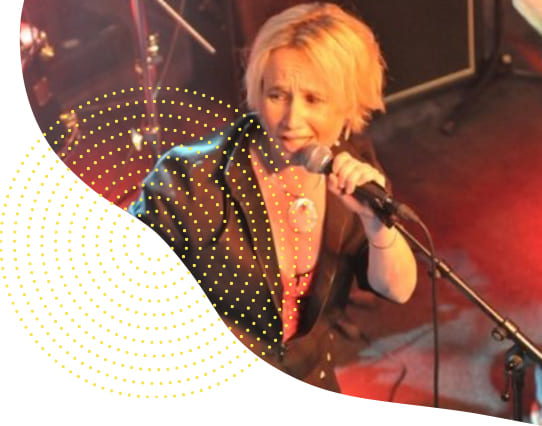 I can't think of a better way to celebrate the release of this new song, that is all about coming together in a joyful way even in times of lockdowns and constraints. Music has the power of bringing people together and rise above the challenges. This is a grass roots video made with friends who took this chance and danced with me… even if virtually. Song written and performed by Paola Granati, produced with Philipp Erdin in Zurich, Switzerland. Released in 2021.
From the album The Midnight Sun on iTunes, CD Baby, Spotify Performed with Colors Music Lead Guitar: Filo Damien Back up vocals : Tiffen
I wrote Rebel Songs in 1999 before the turn of this century when I was reminded that I was losing my rebellious spark and the unwavering belief that we can all make a difference in the world through songs, thoughts and actions. I then decided to include this song in my concept album The Midnight Sun released under the name of Paola G. Even if the rebel songs have all been sung, there is always room for more!
Playlist – podcasts about the world of work
Part 1 – The Digital Impact on Talent Mgmt w/ Dean Summlar
Digitisation is here to stay, whether we like it or not. Getting familiar with technology, understanding how it works and how it can help us in our careers is of vital importance no matter what your job is. In this episode we talk about Open Talent Market platforms and how Schneider Electric, a company of over 130'000 employees has implemented this technology. How has that changed talent mgmt? What are the implications for leaders, HR and the employees themselves?
Part 2 -The Digital Impact on Talent Mgmt w/ Dean Summlar
The conversation with Dean continues as we explore how open talent market platforms are changing the way companies manage talent and career development. The example at Schneider Electric is one of the many as companies are using digital technology at scale to facilitate the mapping and matching of skills and opportunities. The implications for leaders and HR are significant but the greatest shift is for the employees themselves who can benefit from direct access to mentors, projects and career opportunities on a easy to use platform!.
Part 1 – The New Workforce Paradigm w/ Timothee Bardet
As the World of Work keeps changing in unpredictable ways what does this mean for the workforce of today and tomorrow? Can flexible workforce models work just as well in bigger corporations as in smaller set-ups? What are the benefits of having blended workforces and what kind of culture is needed to build that?
PART 2 –  The New Workforce Paradigm w/ Timothee Bardet
In part 2 we explore how to keep and share knowledge as the workforce becomes more fluid and dynamic. We also talk about what are the different type of workforces currently existing, what makes them different (contractors, employees, free lancers, etc) and when are they best fit for what purpose.Stay tuned until the end of the episode to hear what is WoWing Tim at the moment! Quite revealing indeed!
Part 1 – Redefining Careers – What's Your Game Plan? w/Sergey Gorbatov
In this episode we focus on career management together with Sergey Gorbatov. Learning how to manage your career is a real skill that many people underestimate. As the world of work gets more and more volatile and unpredictable, deciding what game you're in and what strategy you want to play will save you a lot of time and help you stay focused on your goals. Also playing on your favourite podcast platforms: Apple, Spotify, Google PodCast, Overcast, Alexa, Transitor.fm and others!
Part 2 – Redefining Careers – What's Your Game Plan w/ Sergey Gorbatov
The great resignation, career downsizing, side hustles, career slashes…. lots going on around careers these days! Redefining them, managing them with intention and taking ownership of one's decisions including acknowledging the trade-offs, is what the new career game is all about. Nothing comes for free! You still need to work hard to get what you want. and, let's face it, we wouldn't want it any other way. Tune in as Sergey and I continue our conversation about the changing World of Work and how careers require new strategies and approach.
Part 1 – Demystifying Coaching! Live Event w/ Chiara Covone
There is a lot of noise around coaching! But is there just as much understanding as there is noise around what coaching is and what it isn't? Who is it for? How much should it cost? What are the benefits of coaching? And how do you know whether the coach you are working with is qualified to help you achieve your goals? Together with Chiara Covone, we unpack some of the myths around coaching in this LIVE Episode of the World of Work Podcast, the WoW, where we were joined by BA coaches and participants who pitched in with their questions and comments! Tune into Part 1!
PART 2 – Demystifying Coaching w/ Chiara Covone
The conversation continues as we unpack some of the myths linked to coaching and take questions from the participants. What's the difference between executive coaching and life coaching? What to do when the coachees expect the coach to come up with the answers to their problems? Is everyone coachable? and more! Join me together with Chiara Covone, Executive Coach, as we bring clarity on this very important topic!